Is your home in need of an alarm system in Brisbane?
Are you concerned about the safety of your Brisbane home, or think it may be time to install an alarm system to protect your family and your home? You really can't put a price on security that offers peace of mind, and the Alltronic home security team are some of the best in the business when it comes to home safety systems. From the installation of home security cameras and security systems to repairs, servicing and upgrades, our security experts can do all this and more. Get in contact today.
Speak to our Brisbane Home Alarm System team today!
Call us at 07 3353 3248 or fill out the form to make an enquiry.
Why have a house alarm system in your Brisbane home?
There are a huge variety of reasons as to why you should install a home alarm system:
The obvious one is the safety of your family and yourself.
If you advertise around your home that you have a home alarm, this is off-putting to burglars and they are less likely to target your home.
A lot of systems offer remote monitoring, allowing you to keep a watchful eye on your house even when you aren't home.
Home insurance prices can be reduced for homes with an alarm system.*
There are so many alarm options available, there is something to suit every property and the needs of the residents or staff.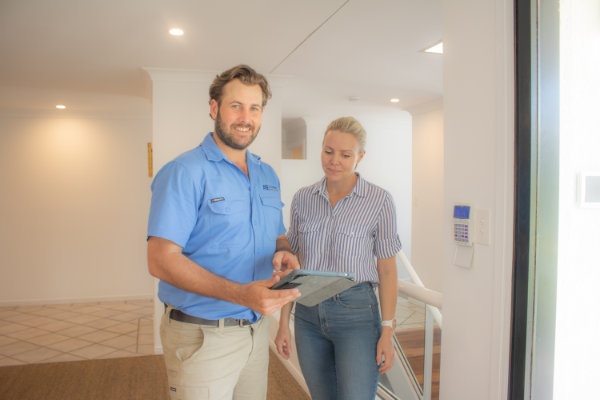 What home alarm services do we offer?
We offer a comprehensive range of home alarm system services across Brisbane including:
And so much more! If the services you are looking for are not listed above, give us a call on 07 3353 3248 as we can likely assist.
Great reasons to choose our Brisbane home alarm system team
We are one of the most trusted security specialists in the Brisbane area.
Our team have extensive on-the-job experience, ensuring we provide practical, effective advice every time.
We provide the best service for every job, no matter the size.
We are a proud, local family owned and operated Brisbane security company.
We have been providing home security cameras and alarms to Brisbane for over 27 years.
We understand that technology is constantly changing, so we ensure we remain up-to-date with all the latest security system advances.

Your trusted local Brisbane home alarm system experts.
If you have any questions regarding home alarm systems or think it is time for a new or upgraded system to be installed in your home, give the friendly team at Alltronic Security a call on 07 3353 3248 or complete an online booking form today.
*Speak to your insurance provider