Security alarm backup battery service
Is your security alarm randomly beeping or telling you to replace the battery? Our security alarm specialists can take care of all your house alarm battery replacement requirements throughout Brisbane. Our team will ensure the battery is replaced correctly and the system is reset properly so your home stays protected.
BOOK AN ALARM BATTERY REPLACEMENT SERVICE TODAY
Call us at 07 3353 3248 or fill out the form to make an enquiry.
How do I know the alarm batteries need replacing?
Some homeowners prefer to change the alarm backup batteries during routine servicing to ensure they never go flat or fail in an emergency. Others only switch batteries over when the alarm system indicates that they are going flat. Whatever your preference it's important to maintain the backup battery to provide your home with complete security protection.
Different alarm systems have various ways of indicating the battery is failing, some include:
beeping or chirping at the alarm keypad - often at the same time every day. Some alarm systems carry out an automatic backup battery test at the same time each day.
trouble or fault light on the keypad
'low battery' or 'low bat' readout on the keypad display
Refer to your alarm system operation manual for the low battery indicator specific to your model.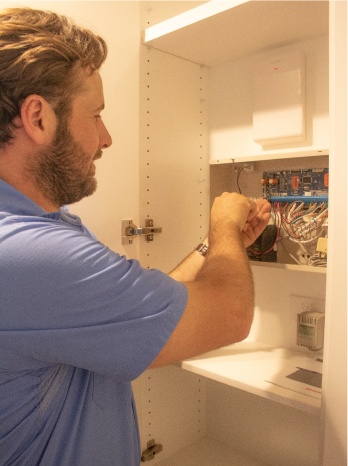 Why is there a battery when the alarm is mains powered?
The backup battery ensures your alarm remains armed even if there is a power-out or the electricity is switched off by an intruder.
How often do I need to replace my alarm backup battery?
Most backup alarm batteries last between 3 to 5 years, depending on the conditions. We recommend asking your security specialist to change the battery during the yearly alarm service every three years.
More information on this - How often does the alarm backup battery need replacing?
Alarm battery replacement service in Brisbane
Our team can carry out all your backup alarm battery, camera and sensor battery changes or upgrades in Brisbane. Contact Alltronic Security on 07 3353 3248 or complete the above service request form today.
Frequently Asked Questions about alarm systems
How much does a security system cost?
Can I have a security system in a house with pets?
What happens when your home alarm goes off?