Reliable security system installation & repair Brisbane
At Alltronic Security, we provide complete security systems. From security cameras for your home or business property, to security alarm systems, we provide supply, installation, repairs and maintenance services.
With our high standard of quality, you can be sure that we provide the best security solutions for every property regardless of its size. We understand that safety is your number one priority and that's why we provide and install the best in high quality security systems to help you feel at ease.
With a complete security system from Alltronic, you can rest easy knowing that your property is always protected. Our experienced team will work closely with you to make sure that you are getting the best protection for your home or business.
BOOK SECURITY SYSTEM SERVICES
Call us at 07 3353 3248 or fill out the form to make an enquiry.
Home Security Systems
Our home security systems are tailored to your lifestyle. You can be assured that your home will always be protected with the latest technology, including motion sensors, door and window contact sensors as well as remote access cameras. We also provide a 24/7 professional monitoring service to add an extra layer to security, which allows us to react quickly to any potential threats.
Installation is easy with Alltronic Security. Our technicians will install your customised security system and teach you how to use it effectively. Our security alarm and camera systems are integrated with smart home devices to enhance the overall security of your home.
Commercial Security Systems
The security of commercial property and businesses is paramount. Business alarms can be a key asset in providing the necessary protection for companies, minimising the risk of intruders.
Commercial security systems offer a range of solutions, from the installation of security cameras, to the use of sophisticated systems with professional alarm monitoring services. Experts like Alltronic Security can advise you on the best security system to adopt for a specific purpose, ensuring that the technology and design are tailored to your business' individual needs.
No matter the size of your premises, we will work with you each step of the way to ensure your commercial property is safe and secure. With years of experience in the industry, you can rest assured that you are in safe hands with Alltronic Security.
Security Camera Systems
Alltronic Security are a leading provider of commercial and residential security cameras systems. Our high-quality CCTV cameras and CCTV installations will help to protect your family and your home. We offer reliable advice on the best system for your needs, tailored to your budget. We provide installation, upgrades, and repair services for a range of CCTV and IP security cameras. Or if you have already purchased a security system and need help with its installation, just give us a call and we will get it working ASAP!
When it comes to protecting what matters most, we're here for you every step of the way with our friendly customer service team who are always happy to answer any questions or concerns that you may have about our products and services.
You can trust us with all of your security needs because we only provide premium quality security cameras from trusted brands, like Micron.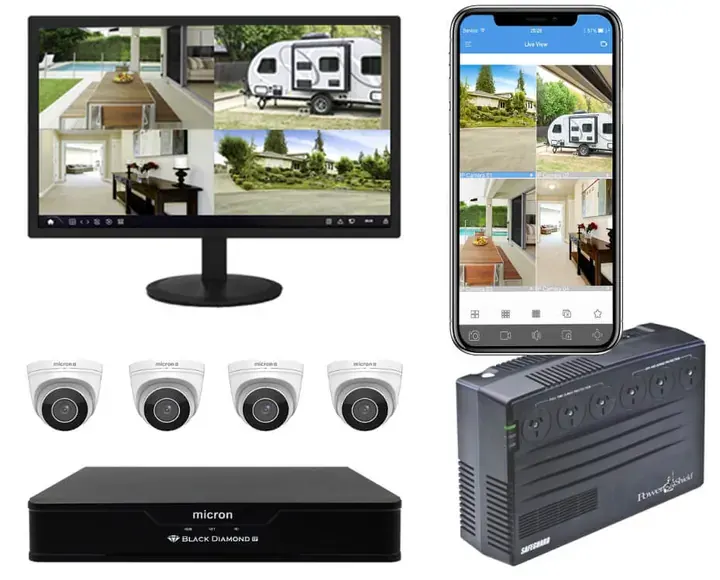 Alarm Systems
Alarm systems are a great way to protect your property and family. They're also easy to install and use, which is why they've become such popular security solutions in Australia. Alltronic has been providing top-quality alarm systems for over 20 years, so we know how important it is that you feel confident about the safety of yourself and loved ones when you leave the house every day. We offer professional installation services from our team of experienced technicians who will make sure everything works perfectly before leaving your premises.
Our range includes products from leading brands like Bosch and Micron, all of which come with programmable zones for maximum protection against intruders. If you prefer not to be tied down by wires, there are wireless options available too.
Whether it's protecting your home or office space, Alltronic offers a wide range of quality products at affordable prices that will suit any budget or lifestyle requirement.
Self Monitored Alarms
Self monitored alarm systems are becoming an increasingly popular home security option. They offer the same security benefits of CCTV security cameras, yet without the need for a professional monitoring company. With a self-monitored system, you can arm or disarm your alarm remotely via the app, or have it automatically activate when you leave the premises.
MyAlarm self-monitoring app makes it easy to set up this type of system. It provides remote live monitoring, allowing you to keep watch over your home from anywhere. The app also allows you to receive notifications on your devices, giving you peace of mind that your home is secure. Investing in a self monitored alarm system can give you the extra layer of security you need for your property.
Back to Base Monitoring
Back-to-Base professional alarm monitoring ensures optimal protection for residential and commercial properties from the threat of intrusions and crime. Our Back to Base monitoring is provided by a dedicated security monitoring company that provides round the clock security monitoring for customers who require the highest level of security.
Our monitoring centre is committed to providing fast and reliable alarm response, 24 hours a day, 7 days a week. Our experienced operators observe residential and commercial properties from our state-of-the-art monitoring centre.
With our back-to-base professional alarm monitoring, your property is constantly under the watchful eye of our experienced and dedicated monitoring centre team. Choose Alltronic Security when you require reliable security monitoring for your property.
Complete Commercial Security & Home Security System Services
Alltronic Security and Electrical offer a huge range of security services including:
Security System Service Areas
Alltronic provide complete security services to:
Your Local Security System Brisbane Experts
Secure your home or business with the help of Alltronic Security. We provide security system services throughout Brisbane, Ipswich, Logan, Moreton, and Redland Bay contact our team on 07 3353 3248 or complete our security system booking request form today.