CCTV cameras - supply, installation & service in Brisbane Northside
Alltronic Security has been supplying, installing and servicing security cameras across North Brisbane since 1992. We pride ourselves on being up to date with the latest CCTV technology to ensure that your family and home are protected 24/7. Get in touch with one of our home security specialists today for a local service that is affordable, reliable and efficient.
Home security camera Brisbane North
Are you looking for a new security camera system? The team at Alltronic Security can supply you with the right surveillance system for your home. We only supply customers with high-quality products to ensure that they work well, year after year. We offer the leading security camera brand Micron and work closely with customers to ensure we supply the ideal CCTV camera system for the protection of their homes.
Security camera installation Brisbane North
Selecting the right surveillance system for your home can be difficult. Even once that is done, you still have to get it installed! Nowadays, it is becoming popular to do a DIY installation. Attempting the installation 'DIY style' takes more time, and may cost less but often ends with dissatisfaction with the end product. If you are replacing an old security camera system, don't attempt to remove the system yourself, trust it to our trained security professionals.
The team at Alltronic Security are all fully qualified electricians who will complete the entire CCTV installation process and also assist you in planning out the layout of the cameras prior to the installation. By hiring a qualified member of our team, the installation will be done effectively. This will also ensure that your home security cameras work the best they possibly can 24/7.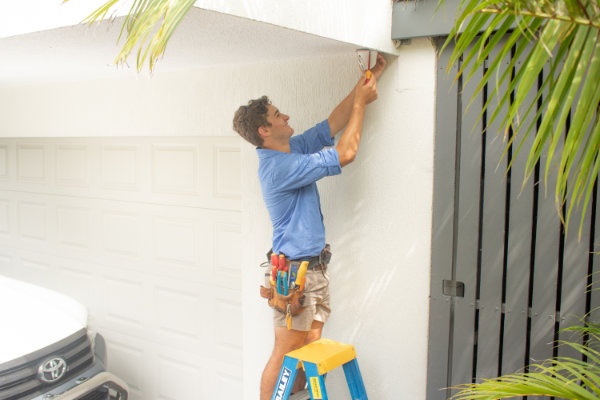 CCTV camera system services Brisbane North
Perhaps your home already has a CCTV system, but does it still work like it used to? Maybe it is completely broken? Either way, the Alltronic Security CCTV service can provide one time repairs or regular maintenance checks on your system to ensure it continues to work well for your family. You can count on our local, fast and reliable service to provide you with a high-quality CCTV repair.
Another service we offer across Brisbane North is regular maintenance checks. By hiring a professional to complete regular checkups on your security camera system, they can detect any flaws or defects in your system early. This allows them to target and fix the problem before it becomes a serious issue.

Security camera Brisbane North specialists
Since 1992, we have been providing home and business owners across North Brisbane with high-quality security solutions. We are trusted by the locals and take pride in maintaining a high standard of work. For any security enquiries, call us on 07 3353 3248 or fill in an online booking form.
Looking for more than Security Cameras in Brisbane North?
We provide additional services in brisbane