Looking for a great local Brisbane electrician?
Our fully qualified and licenced Brisbane electricians can help with complete electrical services throughout the city. We've got you covered for everything from installing new security lights, integrating your home automation systems to upgrading smoke alarms to be able to self monitor them from anywhere. Book an Alltronic electrician today.
How can our electricians help today?
Call us at 07 3353 3248 or fill out the form to make an enquiry.
Electrical services we offer in Brisbane
We can help you with your home electrical needs. From repair and maintenance of existing electrical services to the installation of new electrical fixtures and points. Below is a list of common electrical services that we offer.
If the security electrical service you are looking for is not listed here give our team a call at 07 3353 3248, we're sure to be able to help you.

Always use a licenced electrical contractor
With easy access to a wealth of 'how to' articles and videos, more and more homeowners are watching tutorials by qualified electricians (often from countries other than Australia where electrical regulations differ) on how to fix and maintain their own electrical services. We cannot stress enough that DIY electrical work is the single most dangerous DIY job a homeowner can undertake.
In Queensland, it is actually illegal to conduct your own electrical work without an electrical licence. Not to mention that it is very unlikely that your home insurance will cover the work that an unlicenced person has undertaken or any issues that ensue from this work, and most life insurances will become void if you are electrocuted due to unlicenced DIY electrical work.
Important - Always call a licenced electrician for all the electrical work around your home or business.
Our electricians have years of experience providing customers throughout Brisbane with top quality electrical services and excellent customer service. Benefits of using Alltronic for your security electrical needs in Brisbane
We're a family-owned and operated business committed to offering a great experience for every customer, large and small.
Our electricians specialise in providing practical, efficient solutions for all electrical issues.
We carry commonly used parts and equipment to ensure your job can be completed in the most efficient timeframe possible.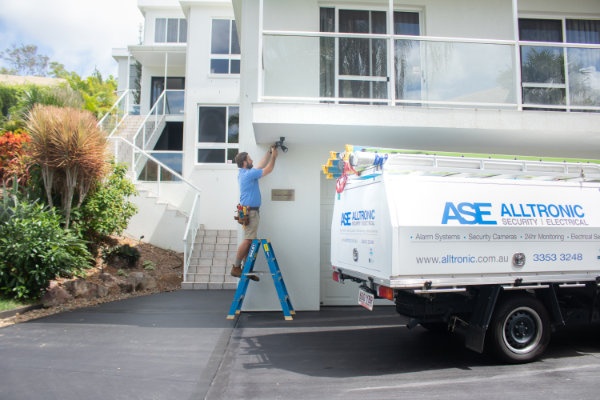 Alltronic security electrical specialists Brisbane
Our experienced, licenced electricians can take care of all your security electrical service requirements throughout Brisbane. Contact our team at 07 3353 3248 or complete our electrician booking form today.