MyAlarm Monitored Security
Self Monitored Alarm Systems
MyAlarm self-monitoring system allows you to oversee and control your home or business alarm system remotely using your smartphone or mobile device. Always know what's going on at home or work, receive an instant notification of alarm activations and arm or disarm the system easily from anywhere.
Take control of your alarm with the MyAlarm self-monitored alarm system and Alltronic Security today.
Looking for a self monitored alarm?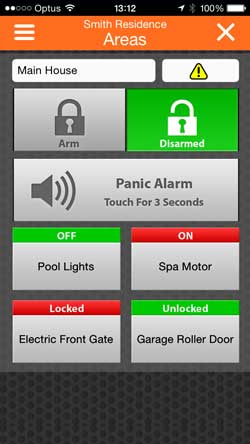 Benefits of the MyAlarm monitoring system
The MyAlarm system provides customised alarm monitoring which can be easily managed by, and tailored for, the user. This unique user managed security monitoring system has many features including:
Arm or disarm - this allows you to remotely turn your alarm on or off. The feature makes it simple to turn the alarm off to provide access to family members or trades people, and the abilty to turn the system back on once they have left.
Activation notification - the MyAlarm app can be set to send you a push notification or email if the alarm is activated.
Real-time warning of events and activations - ensuring you're always up to date.
Up to 10 users can be set up to monitor an alarm - this is an ideal feature for businesses or to allow multiple family members, friends or neighbours to monitor your home alarm.
Log - all events and activations are recorded in a detailed history log.
Remote locks - by pairing the MyAlarm system with your smart-locks you can lock or unlock doors or gates from anywhere. It can also notify you if doors are forced open or left open for an extended time.
View system faults - any errors or faults in your security system can leave you vulnerable to breakins. The MyAlarm app can be set up to alert you to any problem areas so alarm repairs can be carried out.
Monitor multiple alarms - the MyAlarm app allows you to monitor several alarms at once. This means you can keep an eye on your home and business in one simple monitoring system.
Zones - create up to 8 zones to separately arm or disarm sections of the building.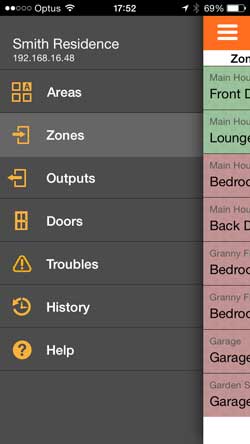 Compatible alarm systems
The MyAlarm monitoring system requires a compatible IP enabled alarm system. Most older panels can be upgraded to align with MyAlarm so speak to the team at Alltronic Security for specific advice on the suitabilty of your security system.
Compatible panels
Bosch Solution 144 Alarm Panel (via a firmware upgrade to Solution 6000v2.23 and higher)
Bosch Solution 6000 Alarm Panel (v2.23 and higher)
Digiflex Vision-X Alarm Panel (v2.23 and higher)
Your local security montoroing specialists in Brisbane
Alltronic Security is your local Registered MyAlarm Installer in Brisbane our security specialists can take care of compatibility requirements, set up, and expert advice to ensure you get the most out of the self-monitoring system. Contact our team on 07 3353 3248 or complete our service request form today.
ALARM SYSTEMS FAQ
For more in depth alarm systems information visit our Alarm systems Information page