Secure your business with integrated security solutions
When you've worked hard to build your business and keep it lucrative, the last thing you need is a break-in or burglary. Not only do you lose money and merchandise, but you diminish your brand and credibility. You can help mitigate your risks and deter intruders with commercial security systems in Brisbane through Alltronic Security. We offer several security alarm options for Brisbane businesses.
For complete peace of mind and reliable services, you can count on Alltronic Security. We provide installation, repairs, maintenance of commercial security systems as well as monitoring services throughout Brisbane, Ipswich. Talk to our security experts for a free security consultation.
Book A Commercial Security System Expert Today
Call us at 07 3353 3248 or fill out the form to make an enquiry.
Security systems for business in Brisbane
Protect your business from break-ins and theft with reliable security solutions with our quality Bosch security alarms and surveillance cameras. Security systems not only protect your assets but also your workforce. Our security technicians can help set up a comprehensive security solution designed to protect buildings as well as your employees.
To find the best system for your specific business, a member of our security team will come out and assess your site. We'll help you design the optimal security solution for your premises to discourage burglars from even attempting a break-in.
Complete business security systems
We're in the business of keeping your workplace safe. That's why we offer a wide range of services to help protect what matters most to you. From CCTV systems, video surveillance, alarm systems, motion sensors and more – we have everything you need to keep your business secure. Plus our team is local so if something does happen, we can respond quickly and take care of it before it becomes an issue.
With our security systems installed around your property – whether that be cameras outside the building or an alarm system inside – you will feel safer knowing that no one can get near without you knowing about it first. With over 25 years of experience in the industry, there isn't anyone better suited than us for this job. Contact us today to learn more about how we can help protect what matters most to you.
Our security solutions include:
Security system installation, repairs, and servicing
Duress Alarms - for at-risk staff
Security cameras - installation, repairs and servicing
Video surveillance
Guard response services
Optional mobile patrol services
Commercial security alarm systems
With security alarms from Alltronic, you get total peace of mind knowing you've kept your business safe. These alarms will immediately alert you about any unauthorised entrances. We can use options such as detectors or reed switches to sense intruders.
Along with our security alarms, we offer an alarm monitoring service to keep your business safe even when you're on holiday. We will notify a contact of your choice when we detect a problem or you can opt for a self-monitored alarm that allows you to access your property remotely via your smartphone or tablet. You can enjoy your time away without worrying about what is happening at your business.
Security camera systems for businesses
Security cameras can act as the first line of defence against theft and vandalism. CCTV cameras and IP cameras are quite common in businesses and becoming common for residential security. To protect your property with security cameras, our security technicians will assess the best lighting, locations, and equipment to maintain a constant visual connection with your property. Good quality cameras that collect clear images can be used as evidence if burglars or intruders ever target your business.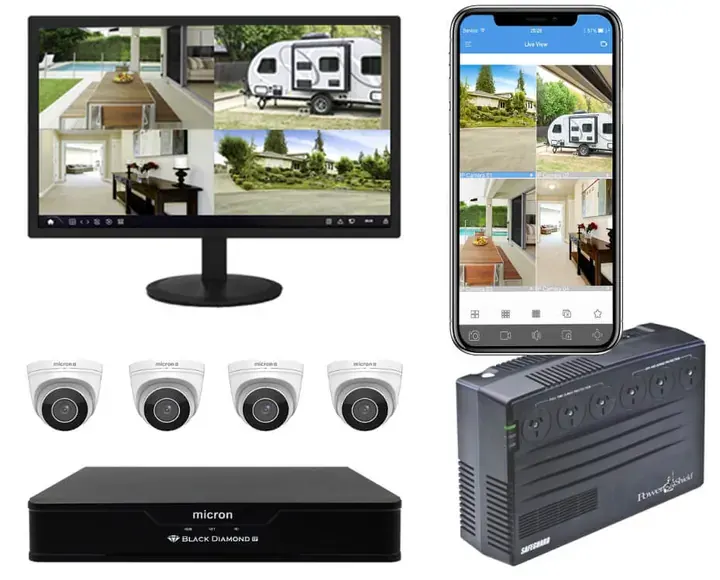 Our state-of-the-art video surveillance systems are easy to use and install by our security experts, so you can protect what matters most in no time. Plus, we offer complete customer support from our team of specialists who will help you get started and answer any questions along the way.
You'll be able to see everything that happens on your property with crystal clear HD images through our high definition cameras that come with options including infrared night vision technology. And because they're weatherproof, they can withstand all types of conditions – rain or shine. We can set up your system with self-monitoring so any motion detection alerts are sent directly to your phone, you won't miss anything important happening at work while you're away. It doesn't matter if it's day or night; we've got you covered.
Reliable, professional commercial security system specialists Brisbane
To protect your business against theft, vandalism and illegal access, contact Alltronic Security for commercial security systems in Brisbane. Call us at 07 3353 3248 or complete our quote request form to schedule a property assessment and discuss your options.