When was the last time your alarm system was serviced?
Security alarms require regular servicing to ensure that they continue to protect your home or business and to minimise false alarms. Routine maintenance will also extend the life of your security system, making sure issues are repaired promptly. We recommend a combination of self-maintenance and professional alarm servicing to thoroughly maintain the alarm system.
BOOK SECURITY ALARM SERVICE TODAY
Call us at 07 3353 3248 or fill out the form to make an enquiry.
Alarm maintenance tasks
Some alarm maintenance can be performed by yourself and some tasks will need to be performed by a qualified alarm technician.
Alarm servicing tasks that you can perform:
Keep sensors and security cameras free from spider webs, dust and debris build-up
Maintain a proper pest control program to minimise pest movement setting off alarms
Remove hanging ornaments or plant growth from near sensors or cameras
Change alarm codes regularly
Perform routine tests monthly (or more often depending on use)
As well as these, we recommend that you get a qualified alarm technician out once a year to carry out a full security system service. This includes:
Checking overall security alarm system integrity
Ensuring that system is communicating correctly with the monitoring station or your self-monitoring system (if monitored)
Testing the integrity of the backup battery to ensure sufficient charge in case of power failure
Review all sensors to make sure they are working correctly
Service security cameras and recording systems to ensure the best picture possible is produced
Investigate the cause of false alarms
By carrying out alarm system servicing once a year you can be confident that it will work properly when needed. Don't assume your security system is working, book alarm maintenance today.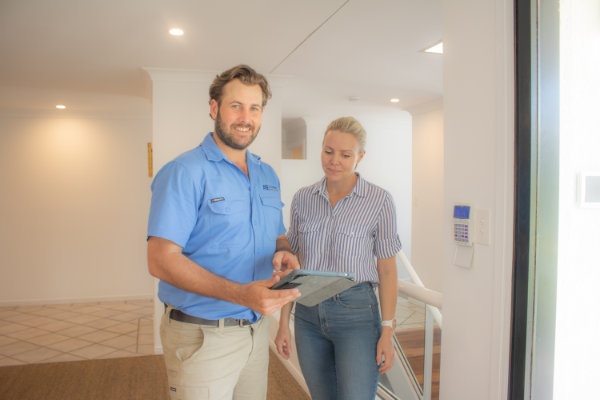 Security system services
Alltronic Security's experienced technicians can also:
schedule regular maintenance at a time convenient to you or your business
replace faulty parts or wiring
set up alarm monitoring
set up a guard response service
service CCTV cameras and recording equipment
upgrade your security system - in part or a full system upgrade
upgrade to a security alarm system that can be self monitored
provide expert advice on how to better protect your property
Expert alarm servicing Brisbane
For expert home or business security alarm servicing and maintenance throughout Brisbane and suburbs contact Alltronic Security on 3353 3248 or complete our online service booking form today.
Frequently Asked Questions about alarm systems
Monitored alarms and NBN - can they go together?
Alarm systems: Sensors vs Motion detectors
Choosing between Bosch 3000 or Bosch 6000 security system?