CCTV cameras - supply, installation & service Brisbane Southside
Alltronic Security team is fully qualified and trained to supply, install and service the Micron & Uniview range of security camera systems. We have been providing residents and business owners with 24/7 protection of their facilities and staff since 1992. We take pride in maintaining a high standard of efficient and reliable work for an affordable price. Contact our security specialists for a CCTV camera system quote today.
Surveillance cameras supply Brisbane South
Finding the right CCTV system for your home can be difficult. The team at Alltronic Security are local suppliers of the Micron & Uniview range of leading security camera models. To ensure the satisfaction of all of our customers, we only use high-quality products ensuring your security camera system will remain reliable for many years.
CCTV camera system installation in South Brisbane
Whether you are installing a brand new surveillance system, replacing a damaged one or anything in between, do not try a DIY installation, just leave it to the professionals. DIYs can be dangerous and they often don't go as planned. Without the training and experience of a security installation specialist, it could cost you more money and take a lot longer than if you were to hire an expert.
By hiring an Alltronic Security technician, you won't have to worry about the task of buying the right tools for the job and working out the entire security camera installation process yourself. They will complete the CCTV installation efficiently and to a high standard. They will do it the right way and will even guide you through selecting where each camera is positioned, to ensure the product works best.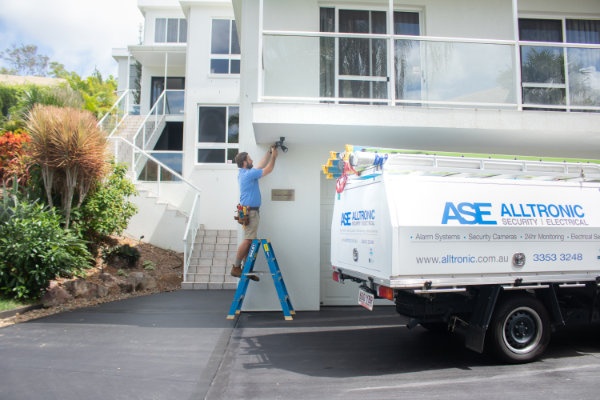 Security camera system services Brisbane South
Alltronic Security offers CCTV repairs and regular maintenance reviews of your camera system.
Regular maintenance checks involve an electrician running checks over your security camera system. These checkups allow our team to locate faults in the system before they cause larger issues. This method can save you from having to replace an entire CCTV system.

Security camera Brisbane Southside experts
Alltronic Security has provided South Brisbane homeowners and businesses with reliable security camera solutions since 1992. Our efficient and cost-effective services are trusted throughout the community, which we take pride in maintaining. For any CCTV security camera enquiries, call us on 07 3353 3248 or fill in an online booking form.
Looking for more than Security Cameras in Brisbane South?
We provide additional services in brisbane