Convenient & reliable personal alarms for seniors
It's tough being elderly and living alone. You want to be independent, but you also want to feel safe. According to the National Institute on Aging, almost 90% of people 65 and older say they would like to live in their own homes as long as possible. However, about half of those who live alone have a fear of falling.
SoloSafe personal alarm systems are the perfect solution for elderly independence and safety. With a SoloSafe system, you can quickly summon help in the event of an emergency without having to rely on others.
Personal alarms for the elderly are devices that can help you alert your emergency contacts in times of danger and medical emergencies. The personal alarm systems are designed for use in a range of potentially at-risk situations such as the elderly living alone, those suffering from chronic conditions, residents living with a disability, or people recovering from surgery.
These emergency duress alarms can keep you safe and also give you peace of mind knowing help is a click away. Whether you are looking for a personal alarm system for yourself or your family members, Alltronic Security has a reliable solution for you. Contact us now and find out how we can help.
Book A Personal Alarm Expert Today
Call us at 07 3353 3248 or fill out the form to make an enquiry.
Advantages of using a personal alarm
Many elderly people want to stay independent and live in their own homes for as long as possible, but they are at risk of falls or medical emergencies that can leave them unable to get help.
Falls are the leading cause of injury and death among seniors, but with a SoloSafe personal alarm, you don't have to worry about being alone if you fall or have a medical emergency.
SoloSafe personal alarms provide independence and peace of mind for elderly people living on their own. With a simple press of a button, you can get help fast.
How do personal alarm systems work?
If you feel unwell or fall down, help is minutes away with an Alltronic SoloSafe Personal Alarm System. So how do they work?
Press the SOS button on your device for 2 seconds - it will alert our 24/7 monitoring centre.
Real humans will talk to you.
The friendly staff will identify the problem and put in place the best course of action to help.
Help is just minutes away - your SoloSafe operator will contact emergency services if needed or alert your nominated emergency contacts.
The SoloSafe staff will stay on the line until help arrives.
The medical alarm has GPS so SoloSafe can track your location and follow your movements every 30 seconds for the next hour - this is ideal for situations where residents become lost or disoriented.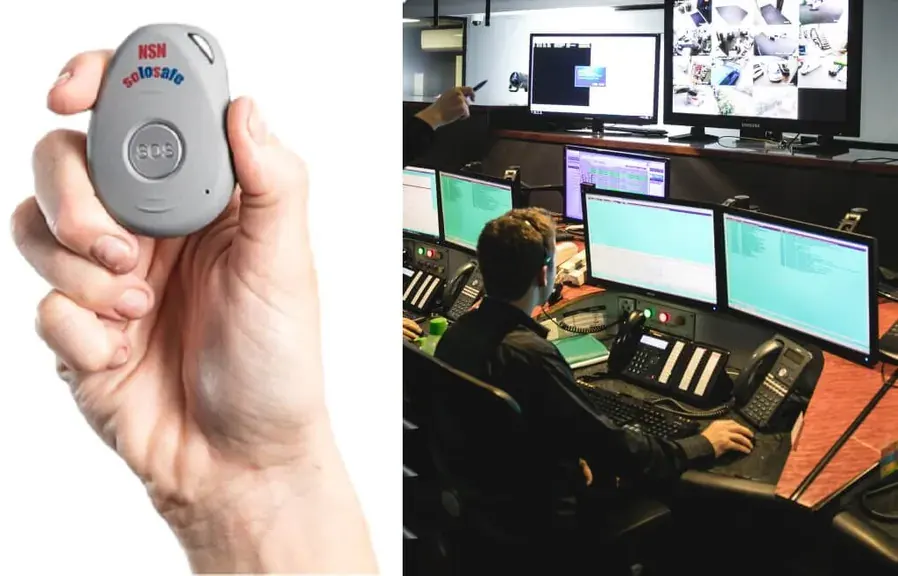 Features of SoloSafe Personal Safety Alarm
SoloSafe personal safety alarm is versatile, secure, and has a simple, easy to use design. There are no complex techniques to operate the device. All you need to do is press the SOS button to call for assistance when you need it.
GPS tracking
Geofencing (This feature helps dementia patients)
2-way communication system
SIM support with access to the Telstra network
Portable - You can wear it inside your home or take it wherever you go
Can be used anywhere in Australia
Water-resistant - can be worn in shower or rain
24 hour battery life
Docking station for easy charging
Real human help 24 hours a day, 365 days a year.
Stores multiple emergency contacts that can be alerted automatically during emergencies
12 month warranty.
Why choose a personal alarm device for seniors?
A good quality personal alarm device can provide peace of mind for those elderly ageing in place in their own homes, as well as their family. Personal safety alarms:
Allow you freedom and independence so you can live alone and not depend on caretakers or family members.
Guarantee peace of mind and helps to keep anxieties at bay, knowing help will be just a click away.
Highly convenient as they have a simple button that makes getting help super easy.
Whether you get it for yourself or your loved ones, having alarm systems makes life easier and minimises stress.

Personal duress alarm systems Brisbane
SoloSafe is reliable and one of the best personal safety alarm systems for senior citizens. At Alltronic Security, our security specialists can help you with installation services for personal alarm systems. Stay safe and reclaim your independence, contact our team on 07 3353 3248 or complete our personal alarm job booking form today.
Frequently Asked Questions about alarm systems
Bosch Solution 6000 Zone Types
How do security alarms work?
Which security system is best for my home?