Professional alarm system services Brisbane Northside
Alltronic Security offers complete, professional security system services throughout Brisbane's northside. Our team of experienced security specialists can take care of your alarm system installation, repairs, monitoring, as well as comprehensive maintenance services. We've been servicing the suburbs of Brisbane north for more than 25 years offering practical, cost-effective security solutions for homes and businesses.
Safeguard your property today with a top-quality alarm system from Alltronic Security today.
Complete home alarm systems in North Brisbane
Your home can be your biggest asset, which is why it makes perfect sense to invest in a quality home alarm system to protect it. We use proven reliable alarm system components from leading brands Bosch Security to ensure our customers receive a long-lasting home security solution.
A home security system will not only protect your home and contents but also maintain a safeguard for your family.
We offer a completely customised home alarm system to cater specifically to your building design, security requirements, and family habits. Features can include:
Motion sensors
Door and window sensors
Security cameras and recording equipment
Professional or self-alarm monitoring
Our team stays up to date with all the latest industry developments to ensure we can provide you with the best service possible.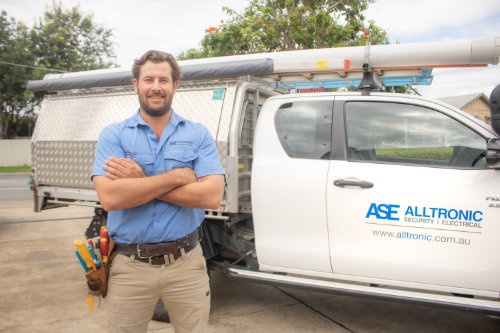 Alarm System Installation
If you are looking for security for your property and loved ones, we are qualified security installation technicians. We can custom design the best home or business security alarm system to meet your safety needs. Our team uses only the best high-quality security alarm equipment from the leading brand Bosch Security.
Security Alarm monitoring options
Whatever alarm system you have installed to protect what is most important to you, Alltronics Security have you covered.
A Self-Monitored Alarm System allows you to keep an eye on your property from anywhere with an internet connection. Many monitoring systems allow you to connect CCTV cameras to provide a clear view of what's going on 24/7. Our self-monitored alarm systems are easy to use and can be installed in a matter of minutes. Plus, our systems are designed to be as unobtrusive as possible so they won't interfere with your daily routine.
MyAlarm System provides custom alarm monitoring without the cost of professional services. This alarm system has many features including the ability for you to arm or disarm your system and to lock and unlock doors remotely using your smartphone or mobile device. By receiving instant notifications of alarm activations you will always know what going on at home.
A Back to Base Alarm Monitoring System enables you to be certain your property is monitored 24/7 for your safety and peace of mind. This alarm system ensures that when an alarm is activated, there is an immediate response from a designated alarm monitoring company.
Security Alarm System Servicing North Brisbane
Sometimes problems with an alarm system are not discovered until it has failed to protect your property from a break-in or damage. Security alarms require regular servicing to ensure they continue to protect your home or business and to minimise false alarms. Regular servicing will also extend the life of your security system, making sure issues are required promptly. There are some alarm maintenance tasks that can be performed by you and others that will require a qualified alarm technician.
Security Alarm Repairs
Should you experience any problem with your security system alarm, our alarm specialists cover all aspects of residential and business security systems. Repair services are carried out on sensors, cameras, recording equipment, keypads, cabling, and more. We will have your alarm system working effectively once again to protect your family and property in no time at all.
Battery replacements for Security Alarms in North Brisbane
Every alarm system has a backup battery located in the control panel. This is a precautionary measure, designed to keep your security system running during a power outage. Even though the battery will generally last for 2 to 5 years, it's important to make sure it is well-charged at all times. Should there be a problem with your battery you will be alerted by a beeping sound or warning messages on your keypad. In the event of this happening it's advisable to replace your alarm system battery when indicated to keep your property, possessions, and loved ones are kept safe and secure. Our security alarm specialists can take care of all your alarm battery replacement requirements across Brisbane.
Alarm System Upgrades
If your current security system is aging, faulty, or badly set up it is basically worthless and as if you have no security system at all. Upgrading your system may be as simple as replacing several components or having a complete overhaul with premium-quality Bosch Security parts. Our technicians will diagnose your current security system and advise on the most suitable upgrade that will have your alarm working efficiently and effectively.
If you are looking for a premium quality alarm system, look no further than a Bosch 6000 security system. Solution 6000 by Bosch is a top-of-the-line security system that can be used in both home and business settings. It has up to 144 zones, 16 access doors or readers, and 990 users so it can meet all your needs. The Solution 6000 also supports self-monitoring capabilities with the help of a smartphone app. This app gives you arm, disarm, and operational functions for the alarm system right from your phone. You can even use it on both iOS and Android devices.
Commercial & Business security systems Brisbane North
Alltronic Security has a wealth of experience in installing and maintaining security systems in a wide range of businesses, from small retail premises to large workshops. We look after several businesses with multiple locations around the Brisbane Northside region.
We understand that a business security alarm system needs to be reliable and hassle-free. For this reason, we can take care of everything from the security system installation to carrying out a routine alarm maintenance schedule to ensure your system protects your business when you need it most.
Your trusted local North Brisbane security alarm specialists
For the very best in home and business security alarm installation, repairs, and maintenance throughout Brisbane Northside contact Alltronic Security at 07 3353 3248 or complete our alarm system service booking form today.
Looking for more than Alarm Systems in Brisbane North?
We provide additional services in brisbane