Protect your business with our smart commercial security solutions 
If you are a business owner, then you know how important it is to keep your employees and customers safe. Unfortunately, most businesses are not protected by an alarm system or security cameras. Most of the time this is due to cost, but sometimes because they don't believe that these systems will make them safer.
Here at Alltronic Security, we have installed thousands of security systems all over Brisbane and can tell you from experience that installing a security system has made everyone feel safer at work and in their homes. It's true! The only way to find out if our commercial security systems would be right for your company is with a free consultation where one of our experts can give you advice based on your needs. Book a free security consultation today.
Book A Commercial Security Expert Today
Call us at 07 3353 3248 or fill out the form to make an enquiry.
Complete business security systems
We're in the business of keeping your workplace safe. That's why we offer a wide range of services to help protect what matters most to you. From CCTV systems, video surveillance, alarm systems, motion sensors and more – we have everything you need to keep your business secure. Plus our team is local so if something does happen, we can respond quickly and take care of it before it becomes an issue.
With our security systems installed around your property – whether that be cameras outside the building or an alarm system inside – you will feel safer knowing that no one can get near without you knowing about it first. With over 25 years of experience in the industry, there isn't anyone better suited than us for this job. Contact us today to learn more about how we can help protect what matters most to you.
Commercial Security Solutions Brisbane
We provide a range of services including:
Commercial alarm system installation, upgrades & monitoring
We're in the business of security, so we know how important it is to feel safe and secure. That's why we love helping people protect their commercial properties with our high-quality alarm systems.
Our state-of-the-art technology means that when someone breaks into your business, your monitoring system will alert you or the monitoring centre immediately allowing prompt action without any delay.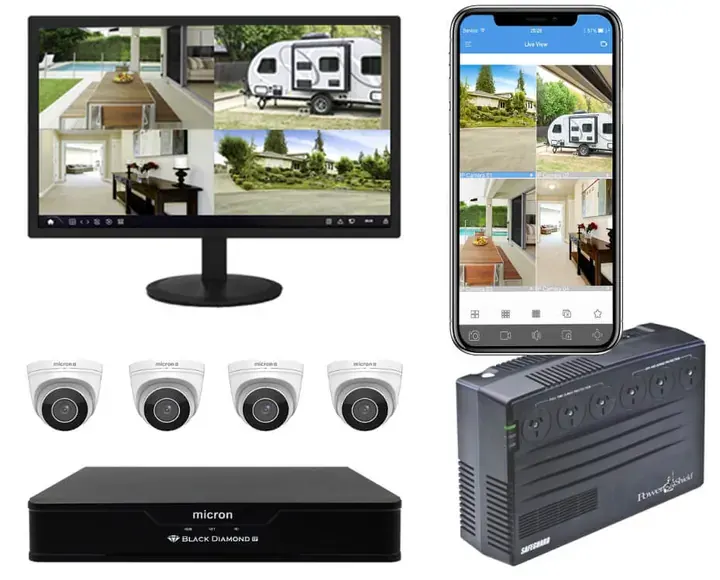 CCTV installation for businesses in Brisbane
Are you looking for a new security camera system? We have the perfect solution for your home or business. Our state-of-the-art video surveillance systems are easy to use and install by our security experts, so you can protect what matters most in no time. Plus, we offer complete customer support from our team of specialists who will help you get started and answer any questions along the way.
You'll be able to see everything that happens on your property with crystal clear HD images through our high definition cameras that come with options including infrared night vision technology. And because they're weatherproof, they can withstand all types of conditions – rain or shine. We can set up your system with self-monitoring so any motion detection alerts are sent directly to your phone, you won't miss anything important happening at work while you're away. It doesn't matter if it's day or night; we've got you covered.
Contact us today for more information about our commercial security camera systems and installation services.
The best in commercial security across Brisbane
Protect your business with our smart security systems. Call us at 07 3353 3248 or complete our quote request form to schedule a property assessment and discuss your options