Home Security Systems Brisbane
Professional home security system services to protect your Brisbane home
Your house is home to the some of the most important things in your life including your family, along with your most valuable possessions. Keep these priceless things secure by investing in a top quality, reliable home security system for the best protection from thieves and unwanted intruders. From security alarms and CCTV cameras to back-to-base monitoring and much more, Alltronic Security offer a huge variety of options to suit a range of needs and budgets. Get in contact today to find out how we can help you achieve the level of security you want for your Brisbane home!
Looking for a new home security system?
Extensive range of industry leading home security systems Brisbane
Alltronic Security offers the installation, repairs, and servicing of premium home security systems in Brisbane to help build a safer community throughout the city. We only use components from proven brands such as Bosch and Micron to ensure our customers receive the most reliable long lasting system available. Our systems incorporate several home protection methods including:

Security alarms
These alarms detect any improper entrances into your home. If burglars or other intruders ever get into your house, the alarm system will alert you immediately so you can take proper action.
Back-to-Base monitoring
With a back-to-base monitoring system, you don't have to worry if your alarm system goes off when you're not home. Our team will respond immediately and alert you or whatever contacts you specify about the problem.
We will also notify you of other incidents, such as fires. In the event of an emergency, this notification could save your house.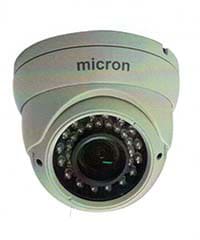 Surveillance camera systems (CCTV)
With a video surveillance system from Alltronic Security, you get visual reassurance that your home is safe as well as evidence of any criminal activity. Security cameras can also prevent a break-in from happening in the first place, fewer things deter intruders better than surveillance cameras.
Qualified home security system technicians across Brisbane
When it comes to the security in your home, you want to know that you are dealing with industry professionals with the appropriate experience and knowledge. At Alltronic Security, our team of technicians are qualified and licensed, with years of hands-on experience dealing with a range of security needs across Brisbane. This allows us to use what we know to provide each and every customer a personalised solution to meet their security needs, no matter the size or budget. We understand the importance of a home security system that exactly suits your requirements, and we pride ourselves on ensuring that's exactly what we provide.
Why choose us for all your home security system needs?
There are a range of benefits that Alltronic Security offers when it comes to choosing us for home security systems:
We have over 25 years of industry experience.
Family owned and operated business.
We are a member of the Australian Security Industry Association Limited (ASIAL).

We only use premium quality components and parts, as well as the latest in surveillance camera and future-proof wiring.

We're prompt and professional.
Give us a call on
07 3353 3248
and we can discuss all your home security needs and how we can assist now!


Your premium home security system protection solution
Don't leave your home vulnerable to intruders, let Alltronic Security's home security systems help protect your most valuable assets. Request a free quote by calling our team on 07 3353 3248 or complete our quote request form today. We are the security experts you need!
SECURITY SYSTEMS FAQ
For more in depth security systems information visit our Security systems Information page